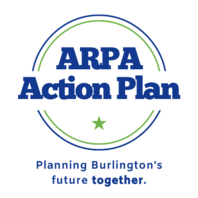 APPLY FOR NON-PROFIT GRANT PROGRAM


On March 11, President Joe Biden signed the American Rescue Plan Act (ARPA) into law, awarding millions of dollars directly to cities.

As a result, the City of Burlington has over $15 million to invest in projects that the community selects. According to the federal guidelines, these funds must be used for projects that respond to the health crisis; address racial and economic inequities; support broadband access and improve water systems, and/or support tourism.
The City has identified several projects that are eligible to be funded using ARPA money and have the opportunity to positively impact Burlington by meeting a number of high-priority goals. We are looking for your feedback on these projects and ideas of your own.

The ARPA Survey is now closed.

UPDATE: The ARPA survey results are now available. We received 3,877 responses and 3,000+ written-in suggestions. These responses will directly influence how ARPA funding is spent in Burlington, Vermont.
Thank you for your interest in the future of Burlington!
---
Non-Profit Organizations Grant Program
In response to the ongoing hardships related to the extensive economic and social impacts resulting from the COVID-19 pandemic, the City of Burlington is launching a grant program using up to $1,000,000 of American Rescue Plan Act (ARPA) funds.
IMPORTANT: Please click here to review the full details of the Grant Program before beginning this application
The primary objective of this program is to support the work being done by non-profit organizations in the City of Burlington to support individuals, households, and industries that were disproportionally impacted by the Covid-19 pandemic.
Grants will range in size from $10,000 to $150,000 and applicants must use these funds for work within the City of Burlington to address public health and economic impacts on households, populations or classes (i.e., groups) that experienced or continue to experience pandemic impacts.
Initial applications will be accepted until November 15th, 2022. Additional applications may be accepted after that date based on funding availability. All applications will be reviewed after the deadline.