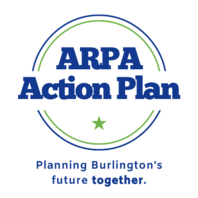 On March 11, President Joe Biden signed the American Rescue Plan Act (ARPA) into law, awarding millions of dollars directly to cities.

As a result, the City of Burlington has over $15 million to invest in projects that the community selects. According to the federal guidelines, these funds must be used for projects that respond to the health crisis; address racial and economic inequities; support broadband access and improve water systems, and/or support tourism.
The City has identified several projects that are eligible to be funded using ARPA money and have the opportunity to positively impact Burlington by meeting a number of high-priority goals. We are looking for your feedback on these projects and ideas of your own.

The ARPA Survey is now closed.

UPDATE: The ARPA survey results are now available. We received 3,877 responses and 3,000+ written-in suggestions. These responses will directly influence how ARPA funding is spent in Burlington, Vermont.
Thank you for your interest in the future of Burlington!