ARPA Action Plan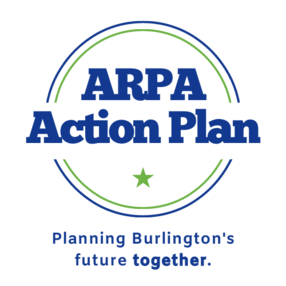 On March 11, President Joe Biden signed the American Rescue Plan Act (ARPA) into law, awarding millions of dollars directly to cities.

As a result, the City of Burlington has over $15 million to invest in projects that the community selects. According to the federal guidelines, these funds must be used for projects that respond to the health crisis; address racial and economic inequities; support broadband access and improve water systems, and/or support tourism.
The City has identified several projects that are eligible to be funded using ARPA money and have the opportunity to positively impact Burlington by meeting a number of high-priority goals. We are looking for your feedback on these projects and ideas of your own.

The ARPA Survey is now closed.

Thank you for your interest in the future of Burlington! We will be sharing the results of the survey soon here at LoveBurlington.org/ARPA.

Next steps: The City will be hosting a town hall (in-person and online) in early 2022 to discuss the most requested projects in further detail and collect community feedback on other uses of the funding. Return to this page for more information on the dates and times of these town halls.

Information on town halls will be shared once available here on LoveBurlington.org/ARPA.