Best Bathrooms In Burlington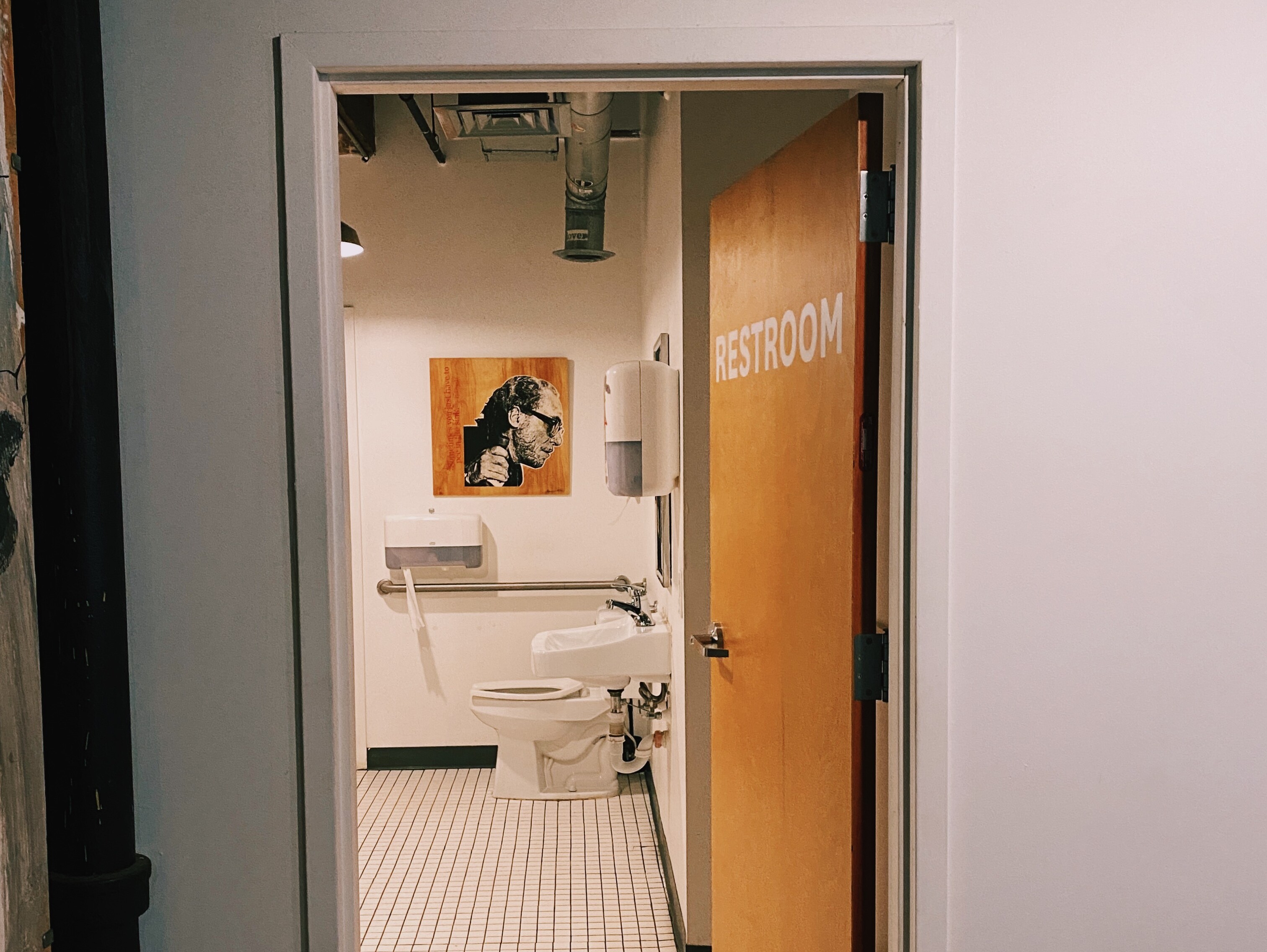 You probably already know that Burlington is known for its charming downtown area, packed with unique restaurants, shops, and attractions. You may not know, however, that we are a city filled with top-notch bathrooms that are worth a visit. In this blog, we'll highlight the best bathrooms in Burlington, Vermont.
Bangkok Bistro In The Alley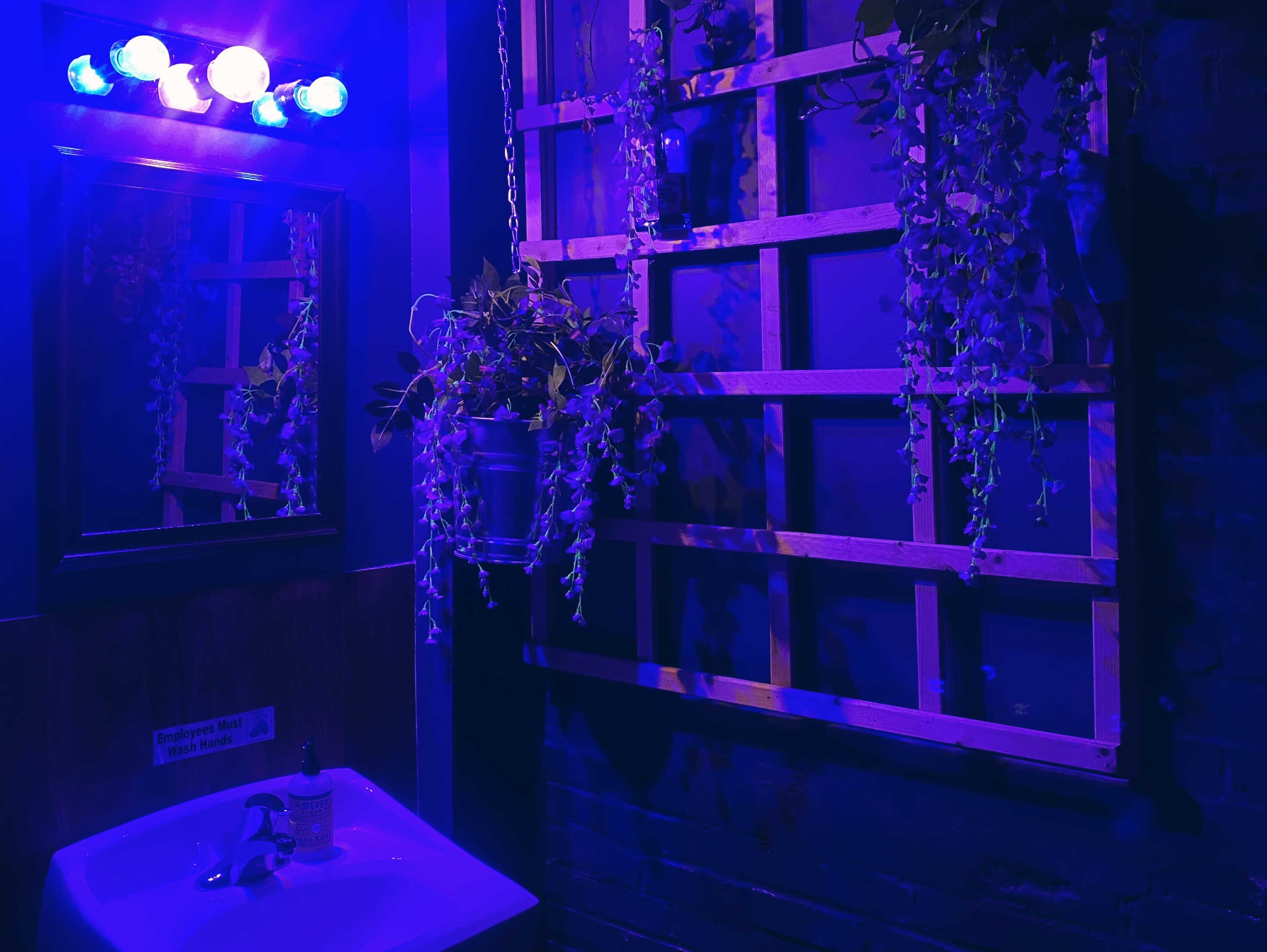 Tucked away in an alley off Church St., Bangkok Bistro is a hidden gem for Thai food enthusiasts. This restaurant is worth a visit for the food alone, but the bathroom is a significant plus. The space is beautifully decorated with plants, posters, and dramatic mood lighting. The impressive attention to detail makes for a truly unique bathroom experience.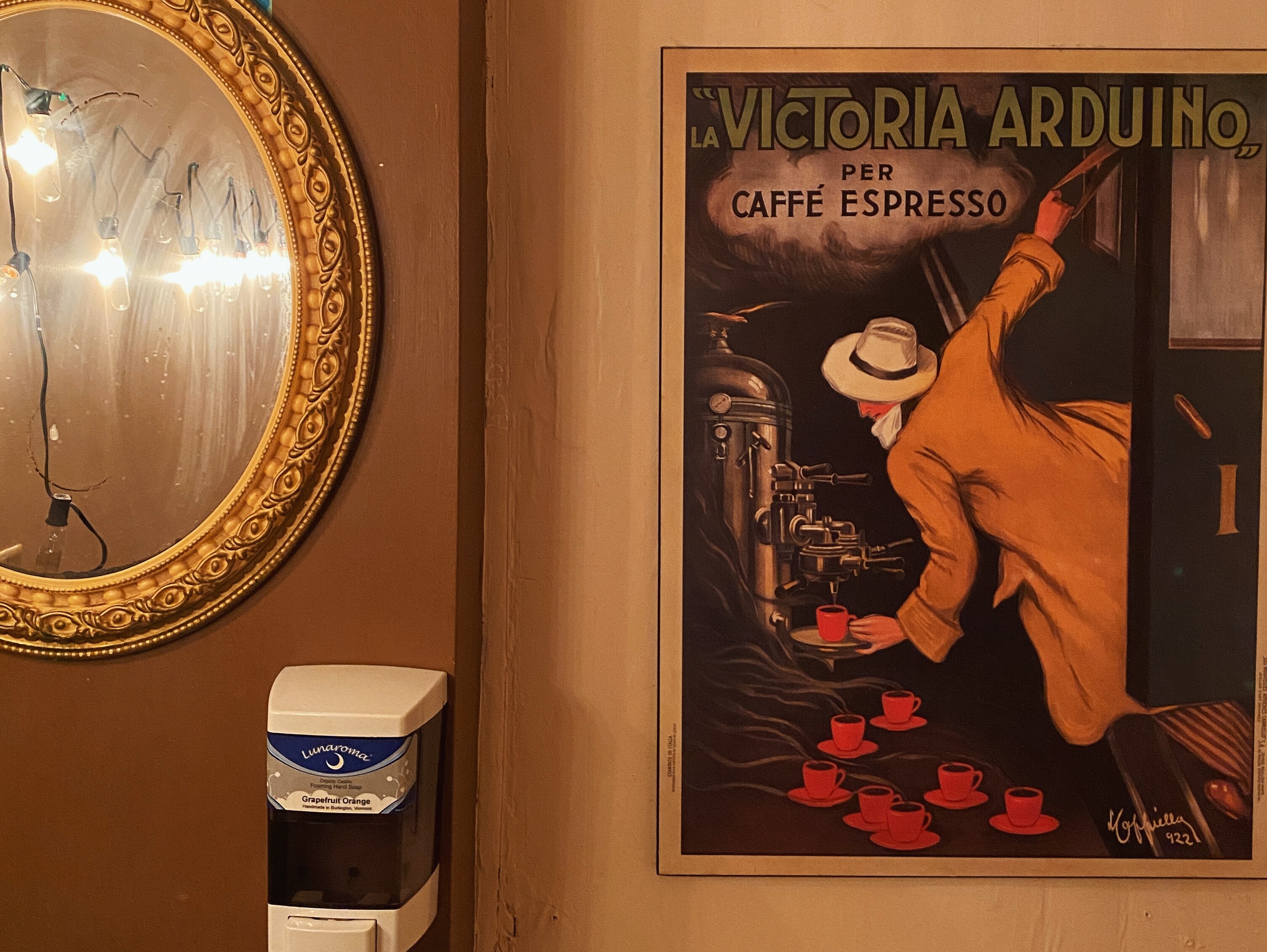 Located in the Old North End, Barrio Bakery is a popular neighborhood spot for enjoying coffee and baked goods. While their bathroom is not as flashy as others on this list, the warm, welcoming feel of the café carries over to the bathroom, making it one of our favorites. The space is cozy with vintage touches, and lit with a string of Edison bulbs! This bathroom makes us feel right at home.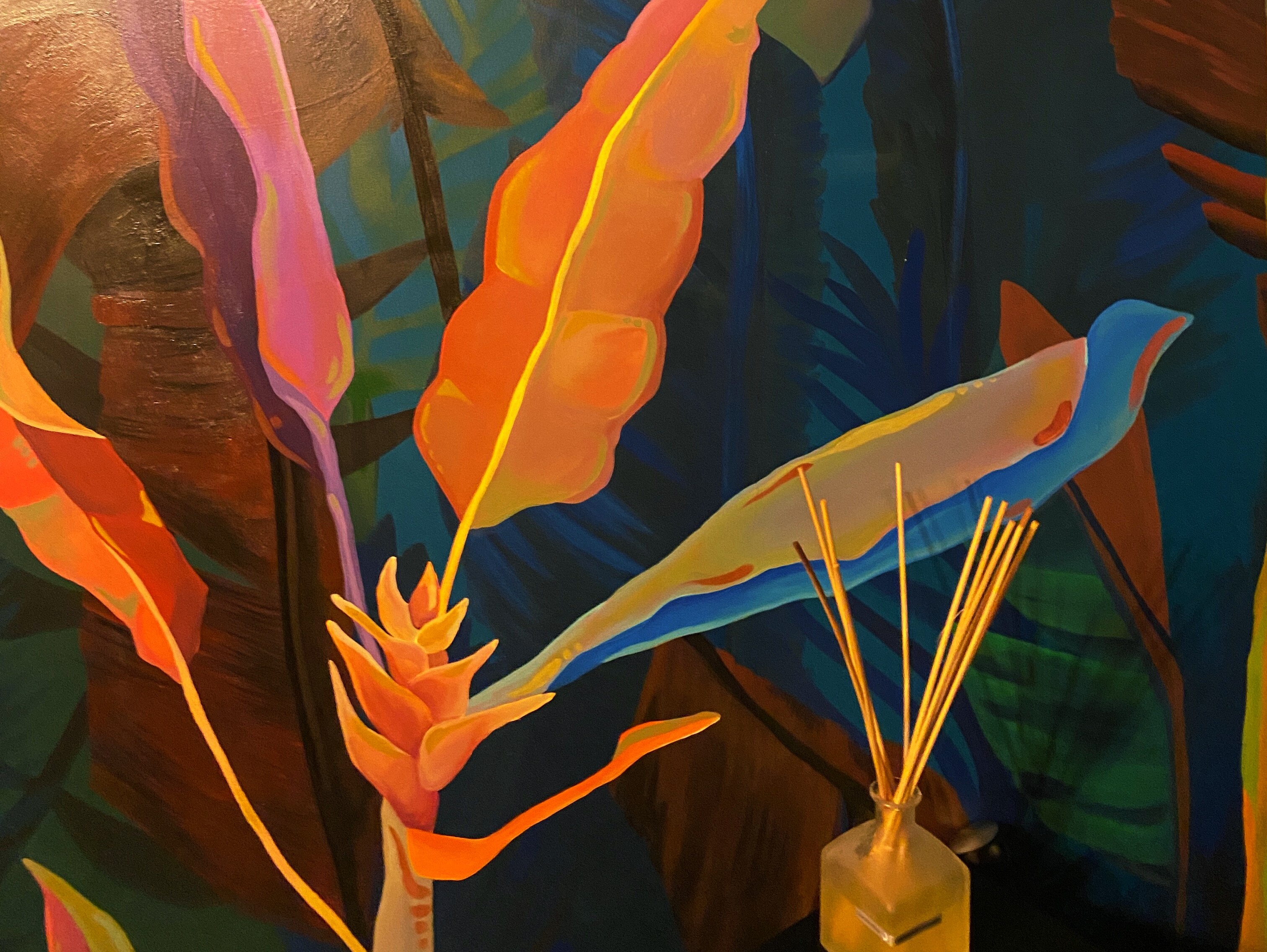 Grey Jay is a chic brunch spot with not one, but two bathrooms dressed to impress. Both bathrooms feature floor-to-ceiling murals by artists Luann Bailey and Tanya Talamante. One transports you to a colorful, moody jungle, and the other is glistening gold! It's impossible to pick just one, so plan to take double the bathroom breaks here.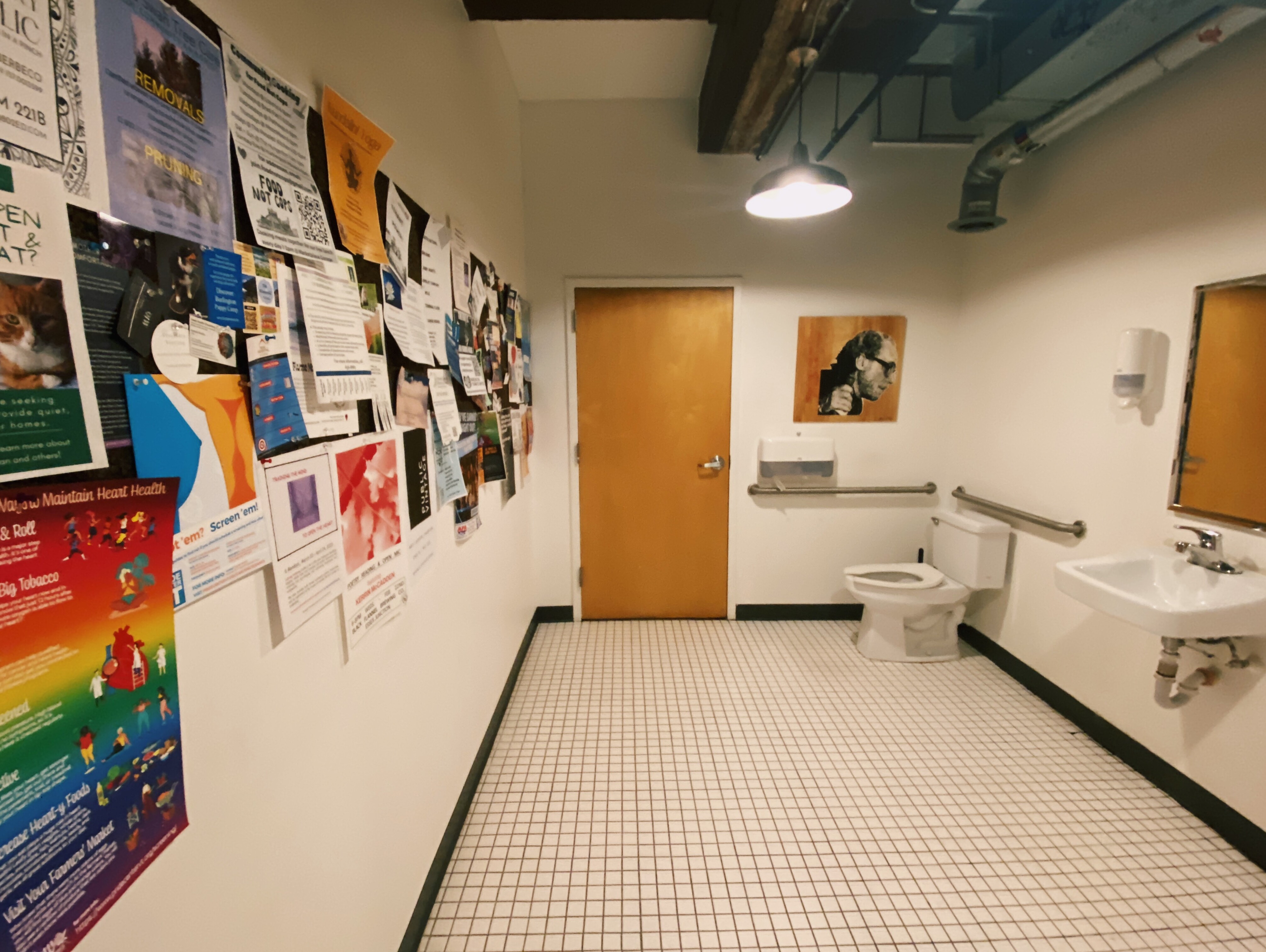 The Karma Bird House is a treasure trove of local businesses and artists. The ground floor alone is home to great coffee, a note-worthy gallery, and the ever-cool Shelter Cultivation Project. The most interesting space, however, may be the bathroom. Its square footage rivals some Burlington apartments, and it is home to a massive community corkboard wall to help you plan out the weekend while you go – gotta love multitasking! If that wasn't enough, there's also some great art to enjoy as you do your business.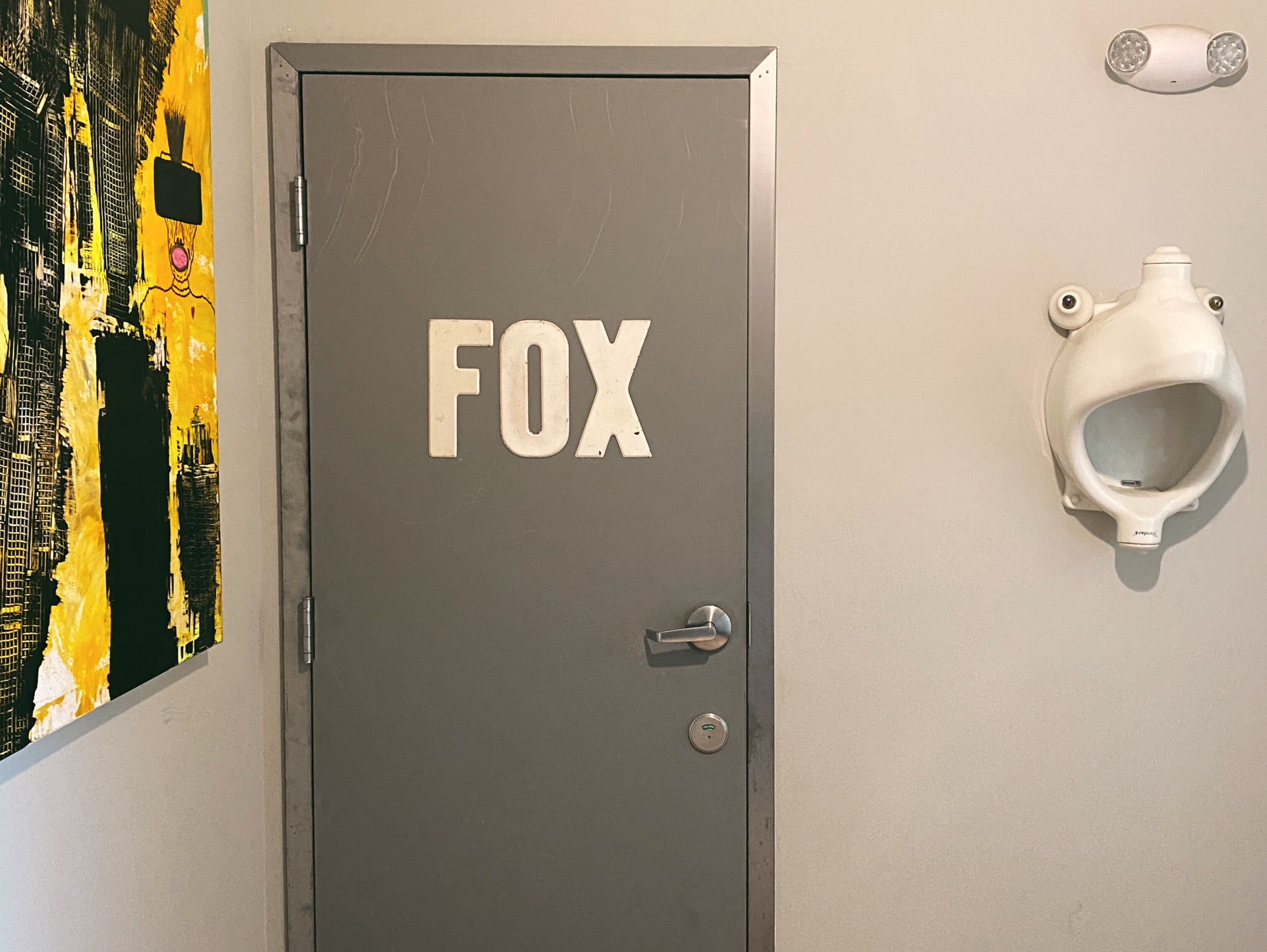 The Soda Plant is a trendy complex that's home to over 35 artists, makers, and producers and one very fun bathroom. While multiple restrooms are open throughout the complex – the fox bathroom takes the cake. You'll find this foxy spot located at the very end of the hall just past the SPACE Gallery on your left. Here, you'll discover a growing collection of fox art and fox-themed things. Have something to add to the collection? Go right ahead!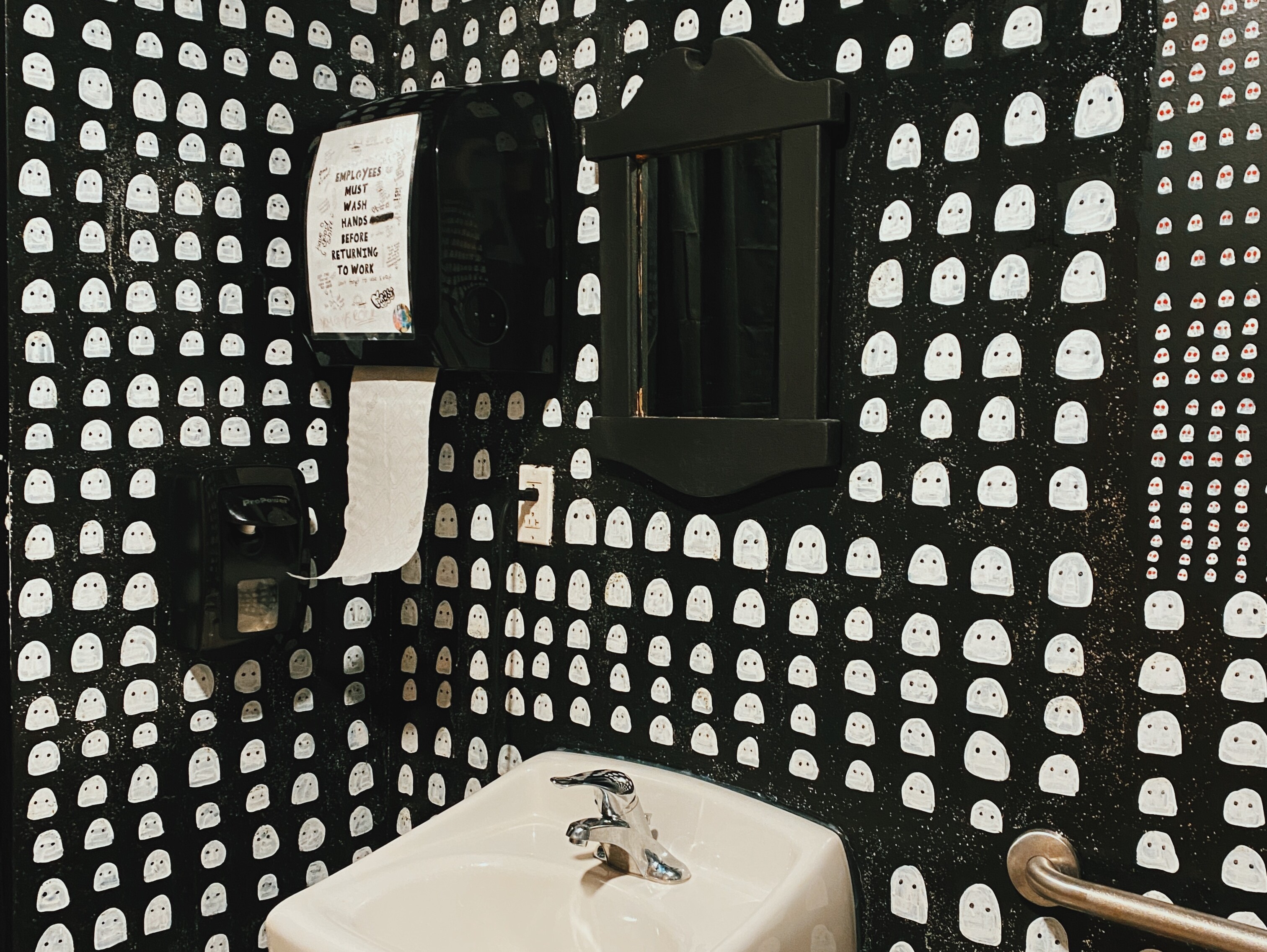 Next up is the Old North End icon, Taco Gordo. Taco Gordo is a popular spot for great drinks and Mexican-inspired dishes and the bathroom is just as festive. Perhaps inspired by Día de Muertos, the space is painted head to toe with hundreds, if not thousands, of little ghosts on a sparkly black backdrop. Nothing better than contemplating your mortality while on a bathroom break, right??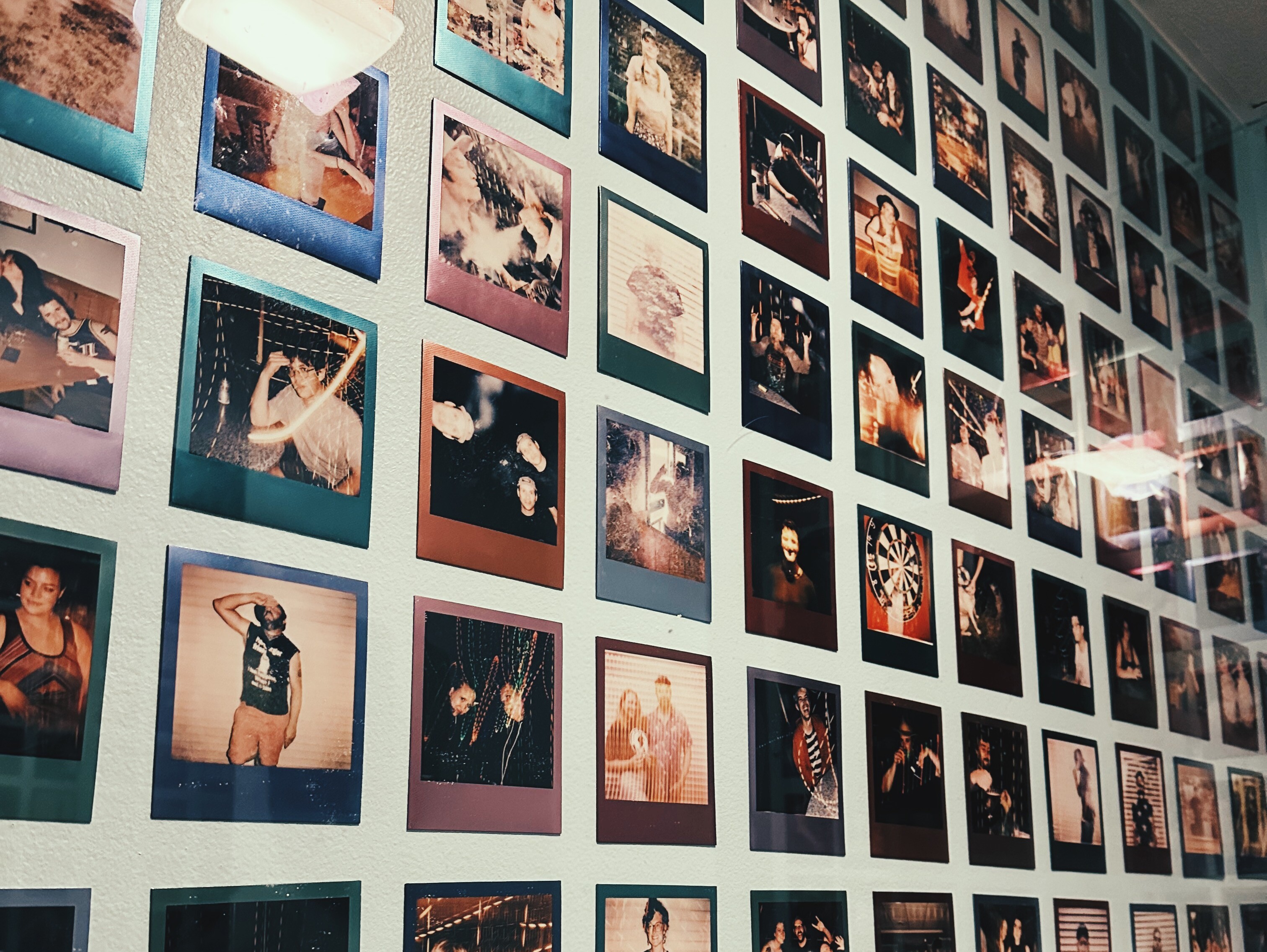 T Rugg's Tavern is a local ONE neighborhood favorite for casual drinks and a game of pool, but the bathroom is a hidden gem that is often overlooked. The bathroom walls are filled with polaroid photos of the smiling faces of their loyal customers. No need to scroll on your phone in here; there's plenty to see!
The Wallflower Collective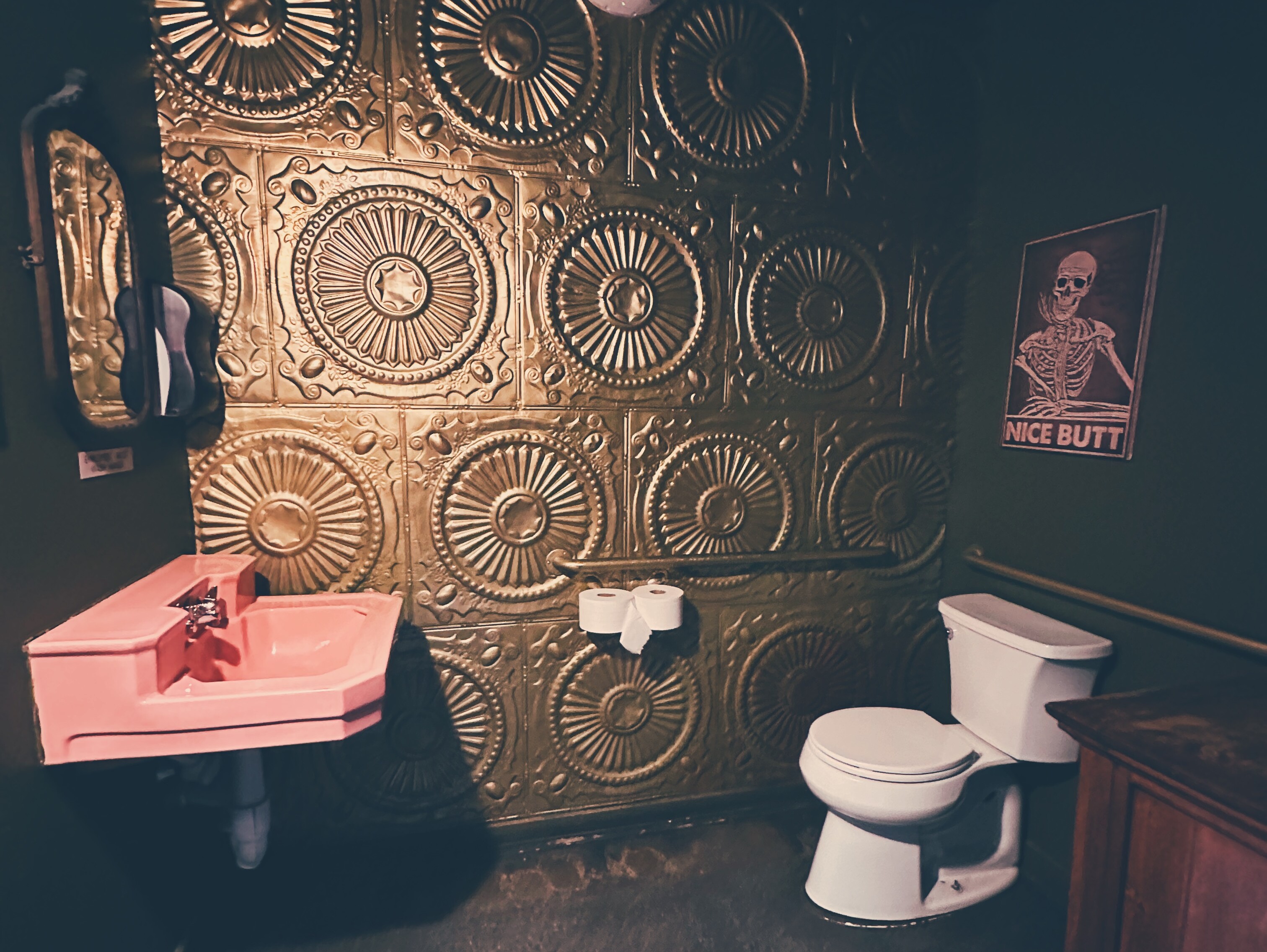 The Wallflower Collective is a cozy bar downtown with delicious cocktails and Folino's pizza by the slice. The Wallflower team knows a thing or two about curating a space with mood lighting, antique furniture, and a glowing outdoor igloo, and this sentiment continues into the restrooms. The walls are floor-to-ceiling chalkboards; the sink is pink, and our personal favorite touch: pocket doors! These private restrooms offer a welcomed moment of solitude from the packed bar and enough space for those who enjoy a group visit to the loo.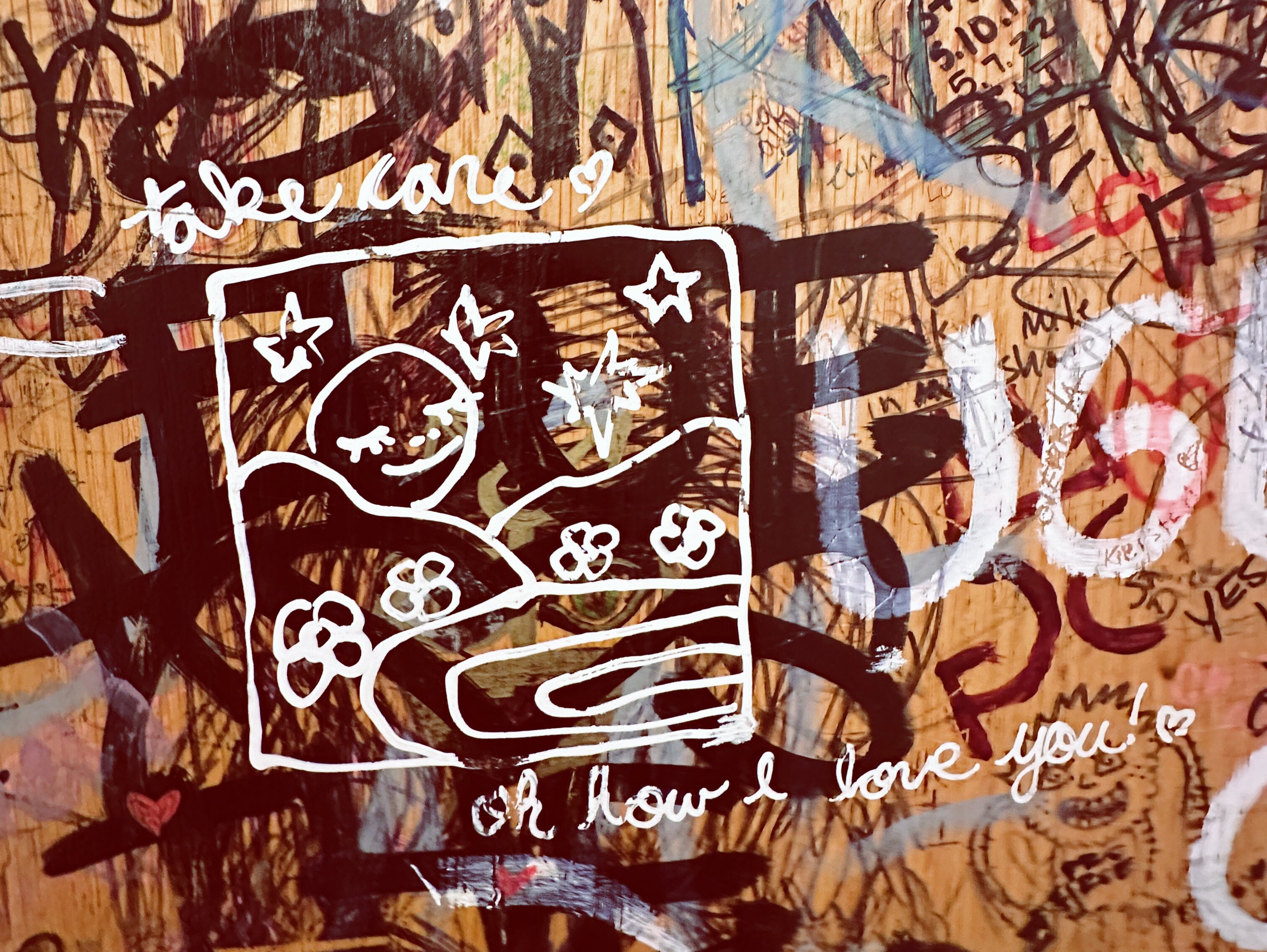 All roads lead to Needs. Three Needs is a staple of the Burlington bar scene, with a wide selection of craft beers and delicious pizza by the slice. The bathroom is equally noteworthy. With a narrow hall of stalls covered in sayings, notes, local crushes and more, you will find endless entertainment as you tend to business.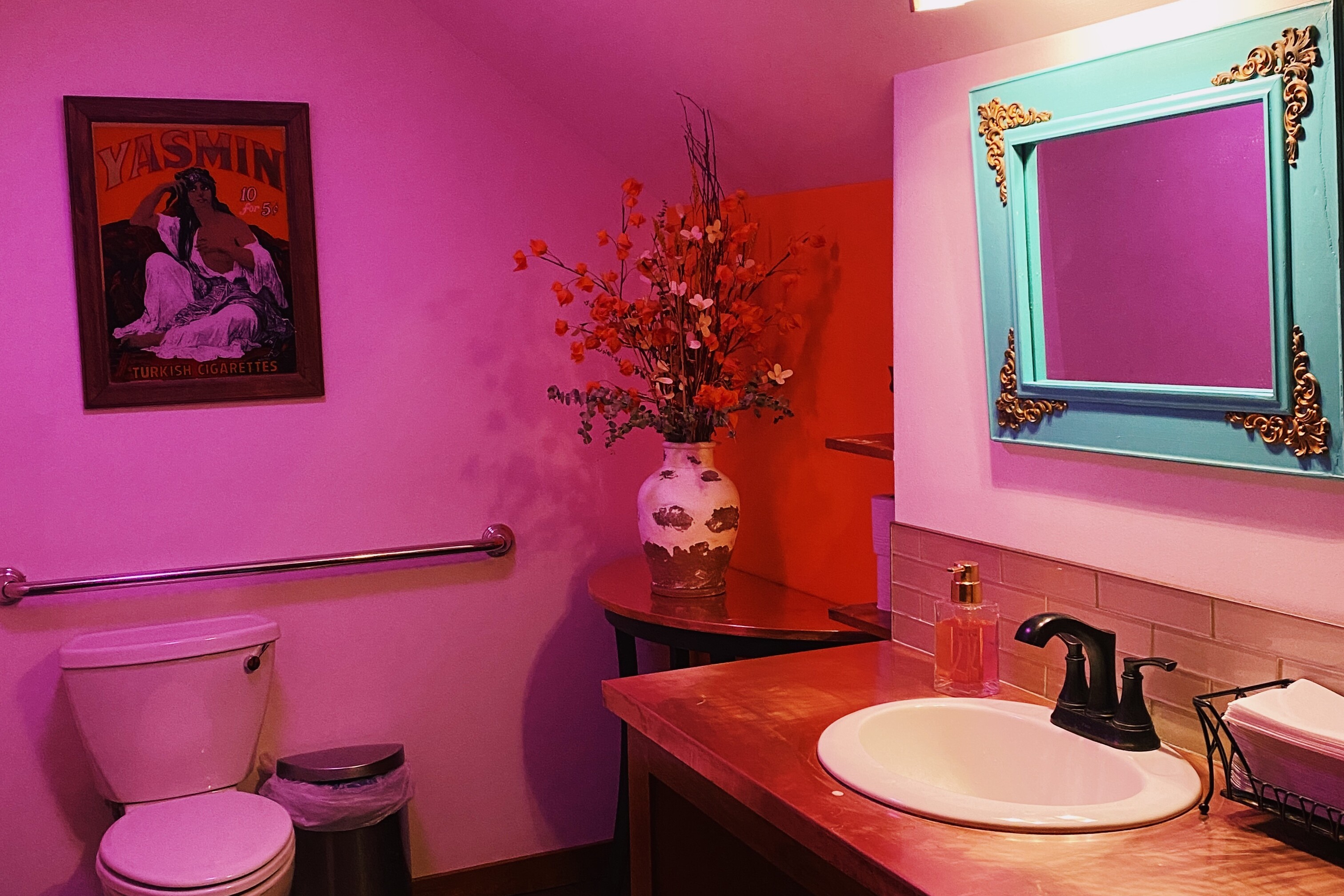 Honey Road is a Mediterranean-inspired restaurant located in the heart of downtown Burlington. Known for its vibrant flavors and fresh ingredients, this award-winning restaurant is a destination for locals and visitors alike. No visit to Honey Road is complete, though, without a trip to their wonderful bathrooms. You have the choice of two expertly curated spaces with bold colors, artful details, and their signature copper counter tops. Insider tip: the left bathroom is the staff favorite! From the menu to the restroom, Honey Road is a can't miss.
Skinny Pancake – Waterfront Location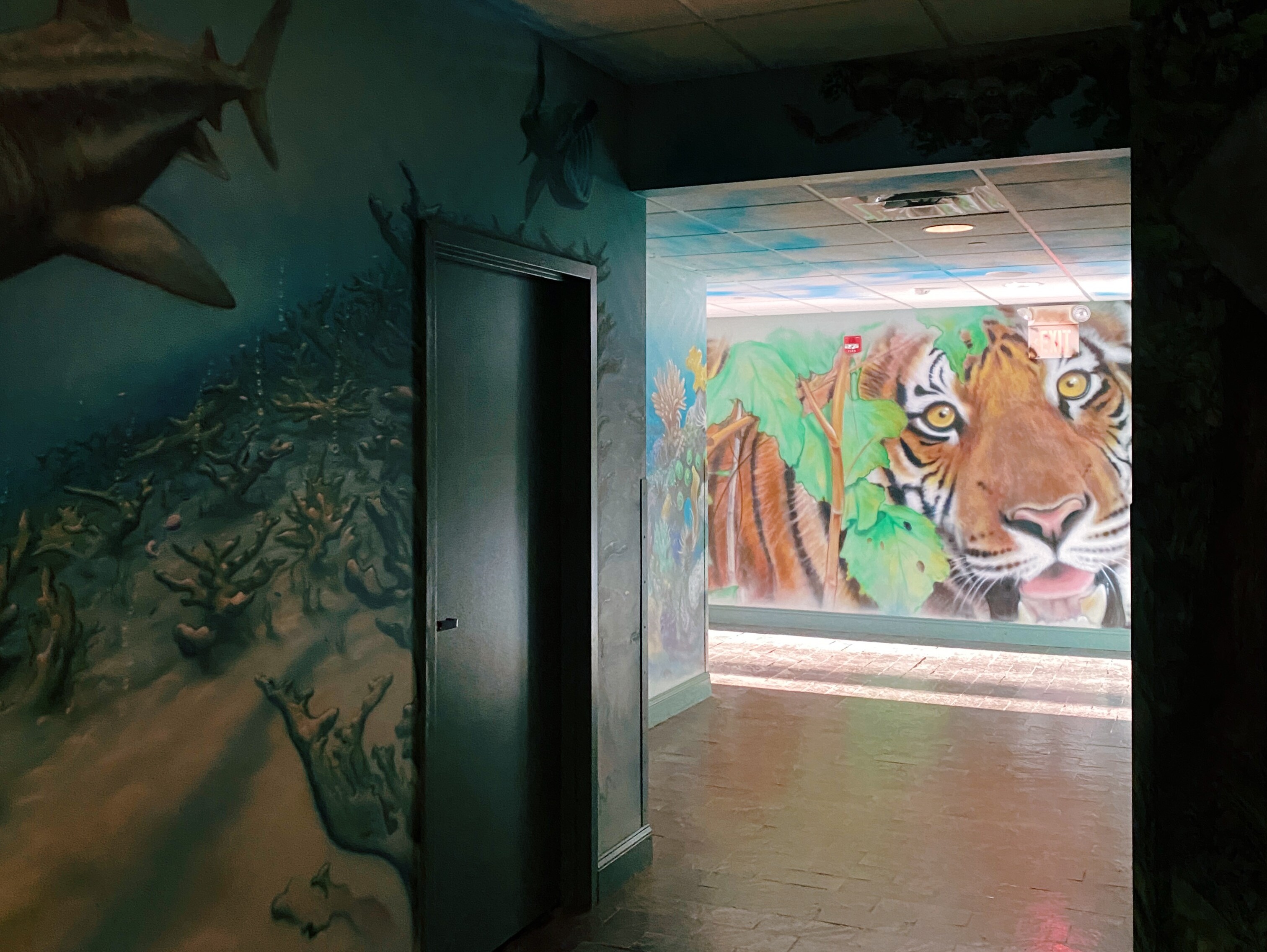 Skinny Pancake started as a Marketplace cart vendor nearly 20 years ago and has since grown to include seven locations throughout the state. Every location is home to its delicious crepes, but the waterfront location is also home to one great restroom experience. While the bathroom itself is standard, getting there is not. A trip to the bathroom here entails a long walk through an immersive jungle, ocean, and forest experience. The walls are covered in gorgeous murals depicting the world's endangered species, and speakers even play the sounds of these beautiful animals.
So, now you know: Burlington, Vermont is home to many establishments with impressive and unique bathrooms. Whether you're in the mood for Thai food, coffee, baked goods, or a cold beer, there is an establishment with the perfect bathroom for you, too.
Did we miss anyone? Shoot us a message!