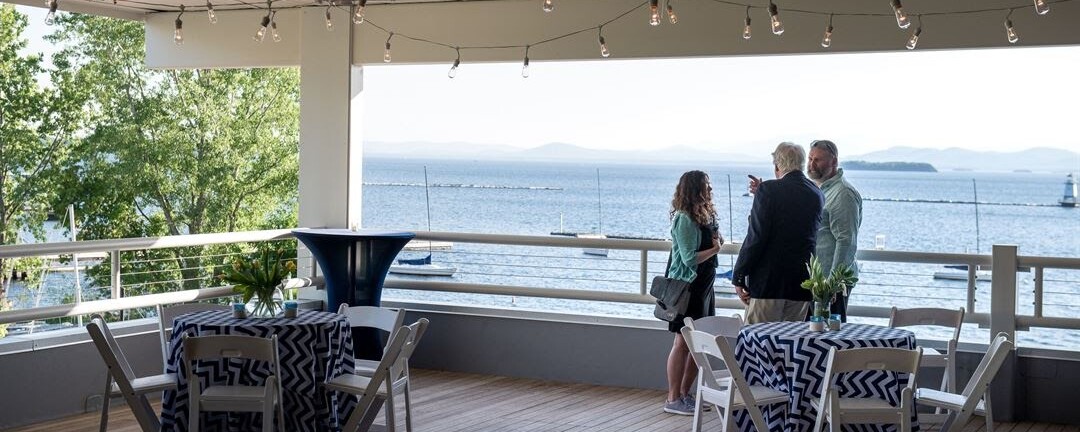 Accessible | Fee | Includes PA | Kid-safe | Bar on site | Chairs for rent | Projector/Screen on site
This beautiful waterfront facility is available to our community to rent for gatherings and events. Celebrate your special occasion in this purpose-built, zero-energy building and support our mission to provide lake access, recreation, and education for all!
Merrill Family Terrace (Third Floor Deck – Outdoor)
100 ft. by 25 ft. covered deck with Brazilian Ipe hardwood flooring (similar to teak) and 5 ft. overhangs to provide protection from the elements. Open on three sides (east, south, and west). Accessible via two staircases and an elevator.
Includes access to additional Observation Tower (22 ft. by 10 ft.) for duration of venue rental.
Capacity: 160 standing / 120 seated
Availability: May 1st – October 15th
Big Ed Classroom (Second Floor – Indoor)
41 ft. by 20 ft. indoor, carpeted classroom-style meeting room with full wall of south facing windows.
Can include access to adjoining Conference Room with kitchenette and 12-seat capacity for duration of venue rental.*
Capacity: 75 standing / 60 seated
Availability: Year-round
Conference Room (Second Floor – Indoor)
18 ft. by 12 ft. indoor, carpeted conference-style meeting room with kitchenette, central conference table, and south facing windows.
Included with Big Ed Classroom or available separately by the hour.
Capacity: 12 seated
Availability: Year-round
Contact John Nagle at (802) 864-2499 or john@communitysailingcenter.org.
505 Lake Street
Burlington, Vermont 05401