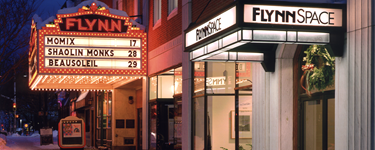 Accessible | Fee | PA for rent | Includes Stage | Kid-friendly | Bar on site | Chairs included | Green Room | Projector/Screen on site | Piano for rent
Located below street level, Flynn Space is a flexible black box theater that's ideal for emerging, local, and experimental artists, as well as established acts touring more intimate productions. Flynn Space can be reconfigured for live music, cabaret, theater, and more, accommodating 120-128 people depending on set-up. Ceiling is 10 ft.
Contact Madeline Bell at (802) 652-4500 or madelinebell@gmail.com.
153 Main Street
Burlington, Vermont 05401