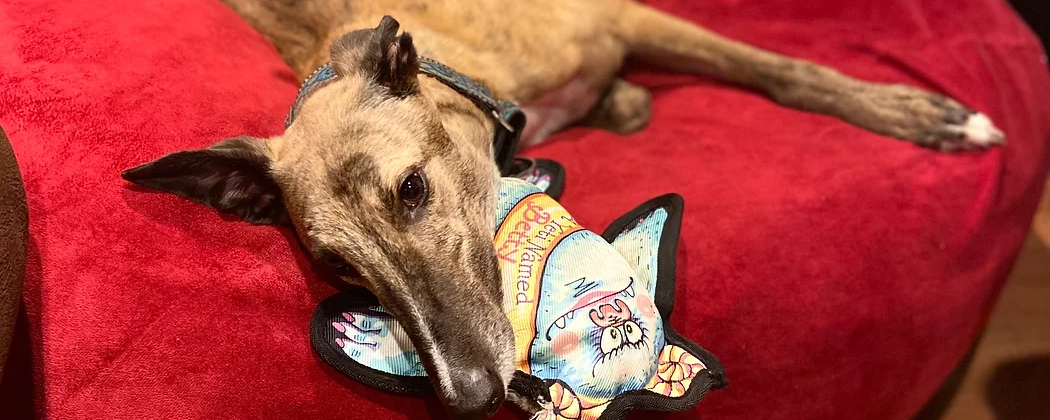 One diva started it all: The Divine Miss Katie Greyhound, aka "The Empress." Far more fashionable than the human at the end of her leash, Katie G would not tolerate an ill-fitting raincoat (seriously—she refused to go outside for two days!). Or an uncomfortable winter coat. It was a tall order at the time, and required too much time shopping online. Wouldn't it be nice if everything I needed was in one place? Coats for long dogs, skinny dogs, broad and burly dogs, and every shape in between. Treats your pet can't say no to. Toys that will keep your pet and you equally entertained. And a few items for yourselves and your home. A place for pets and their people.
It took some time to get here, but we got here. And we decided that fashion is only part of the story. We need to take care of each other too! Which is why we carefully select merchandise that would have been Katie-approved…and is socially responsible. Just about everything we carry is USA made, sustainably made, gives back to animal shelters, or a combination of the three. It's also why we fundraise for (and raise awareness of) local pet charities, animal rescue groups, and organizations focused on your pet's health and wellness.
And yes, leashed pets and masked people are welcome!
Locally Owned
Woman Owned
Doors Open
Gift Shop
Pet Supplies
126 College Street #110
Burlington, VT 05401
Sunday: 12:00pm-4:00pm
Monday: 11:00am-4:00pm
Tuesday: 11:00am-4:00pm
Wednesday: Appointment Only
Thursday: 11:00am-4:00pm
Friday: 11:00am-6:00pm
Saturday: 11:00am-6:00pm