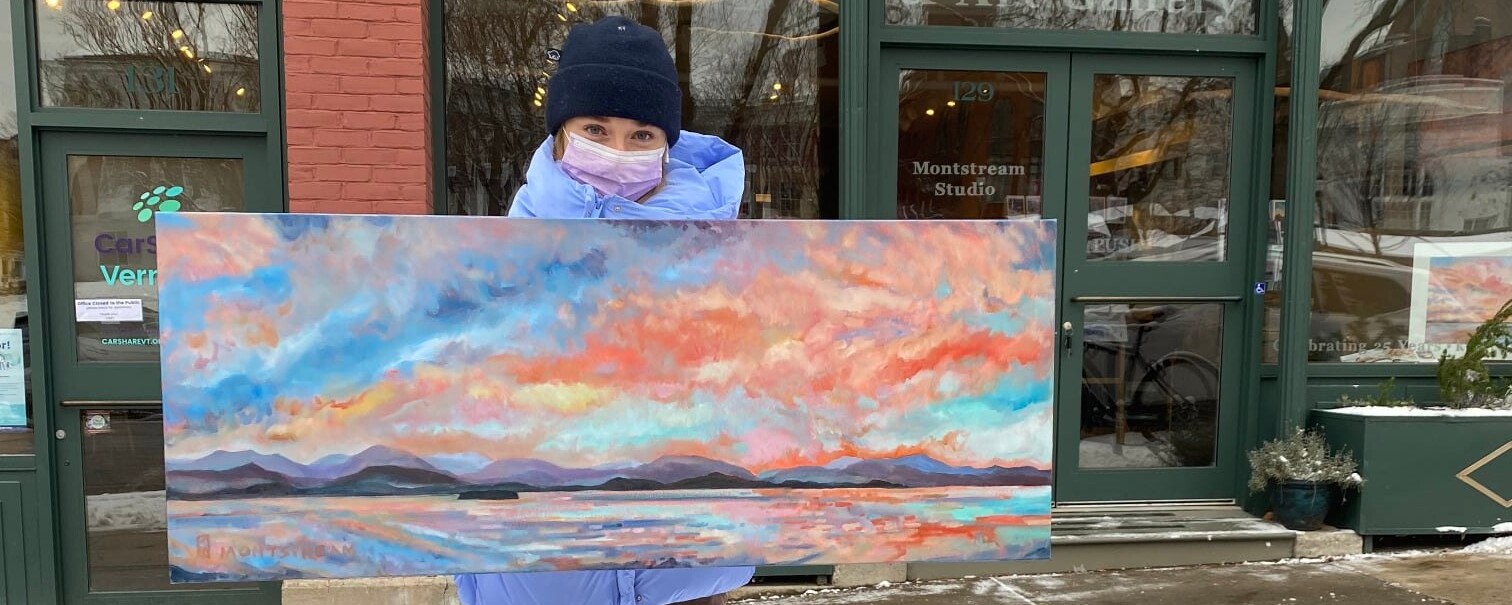 Katharine Montstream grew up in the flatlands of Connecticut and couldn't wait to move to Vermont to ski. She studied at Green Mountain College and the University of Colorado in Boulder for her Sociology degree.
Montstream has been coloring for a living since 1988. She started out making hand made watercolor greeting cards, and in two years she sold over 15,000 -each one individually painted- to shops in New England. The next year, Montstream Studio started printing her images and she and her husband began selling the greeting cards nation wide.
In 1989, her painting career took off after she had her first solo show at a favorite bar in Burlington, the Daily Planet. The images were of buildings, big gardens and the skyline of Burlington. Since then she's had multiple exhibits in Vermont and focuses on her favorite subjects, the lake, mountains, snow, woods, swimming holes and Burlington's iconic Moran Plant.
You can find the Montstream Studio & Gallery in Burlington, at 129 St Paul Street, across from City Hall Park. Our painting studio / coloring room is located at the Soda Plant, at 266 Pine Street.
Reach us at kmmstudio@gmail.com
main studio: 802.862.8752
home studio 802.363.9253
Locally Owned
Woman Owned
Gallery
129 Saint Paul Street
Burlington, Vermont 05401
Sunday: Closed
Monday: Closed
Tuesday: Closed
Wednesday: Closed
Thursday: 11:00 am-3:00 pm
Friday: 11:00 am-3:00 pm
Saturday: 11:00 am-3:00 pm