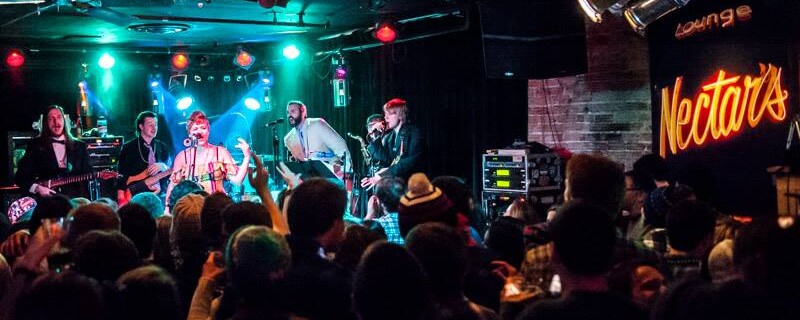 A long-standing landmark on Main Street in Burlington, Nectar's restaurant and bar has been the headquarters for thousands of local, regional and national music acts. From Phish to Grace Potter, from reggae to rock, Nectar's Bar and Lounge is THE place to see live music in downtown Burlington.
The building itself has a long history of entertaining. Originally a savings and loan, the building was purchased to create a two-story restaurant/lounge called the Hi-Hat. The chandelier that hangs over the main room today is a relic of the grand Hi-Hat. In 1975, Nector Rorris bought the building to create the infamous Nectar's. The stage became legendary when a group of then-unknown local musicians known as Phish began to play regularly, sowing the seeds of their enormous following. Since then, the room has become Burlington's preeminent live music lounge, and the home of what have got to be the world's best gravy fries.
In 2003 Nector sold the business to the present owners and in April of 2012 the present owners purchased the entire building making sure the future of this landmark live music institution has a long successful future!
Mission Statement: We are so committed to our mission statement that we printed it on the back of our staff shirts for all the world to see!
FRESH MUSIC SERVED DAILY!
Locally Owned
Doors Open
American
Bar
Live Music
Trivia
188 Main Street
Burlington, Vermont 05401
Sunday: 12:00 pm-1:00 am
Monday: Closed
Tuesday: 5:00 pm-1:30 am
Wednesday: 5:00 pm-1:30 am
Thursday: 5:00 pm-1:30 am
Friday: 5:00 pm-1:30 am
Saturday: 5:00 pm-1:30 am