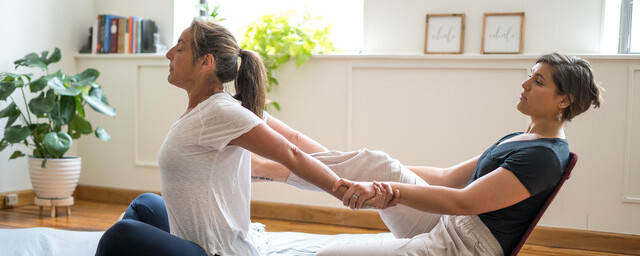 Quinttusential Yoga Therapy
At Quinttusential Yoga Therapy, Sarah Quinttus offers Phoenix Rising Yoga Therapy sessions for individuals and couples.
Yoga Therapy is a holistic healing art that combines age-old yogic practices with modern therapeutic techniques to bridge your mind with the innate wisdom of your body. During a Yoga Therapy session, Sarah guides you into direct experience using a somatic approach consisting of supported postures, therapeutic touch, and non-directive dialogue to facilitate a process of deep listening, transformation, and healing.
Yoga Therapy can support you through a major life transition, help you get unstuck, manage anxiety or depression, and reconnect you with your body. The body, not the thinking brain is where we do some of the most profound healing and while Yoga Therapy does not replace cognitive therapy, it is a profound practice that can support the work you are already doing or be a starting point for you to begin!
Sarah is in private practice and her office is located in the Chace Mill in Burlington where she offers in person or virtual sessions. No previous experience with Yoga or therapy is needed - come as you are! Let's begin.


Learn more at www.quinttusentialyoga.com
Locally Owned
Woman Owned
Doors Open
Yoga Studio
Massage Therapist
1 Mill Street
Burlington, Vermont 05401
Sunday: Closed
Monday: 10:00 am-4:00 pm
Tuesday: 8:30 am-6:30 pm
Wednesday: 8:30 am-5:30 pm
Thursday: 8:30 am-5:30 pm
Friday: 10:00 am-4:00 pm
Saturday: Closed