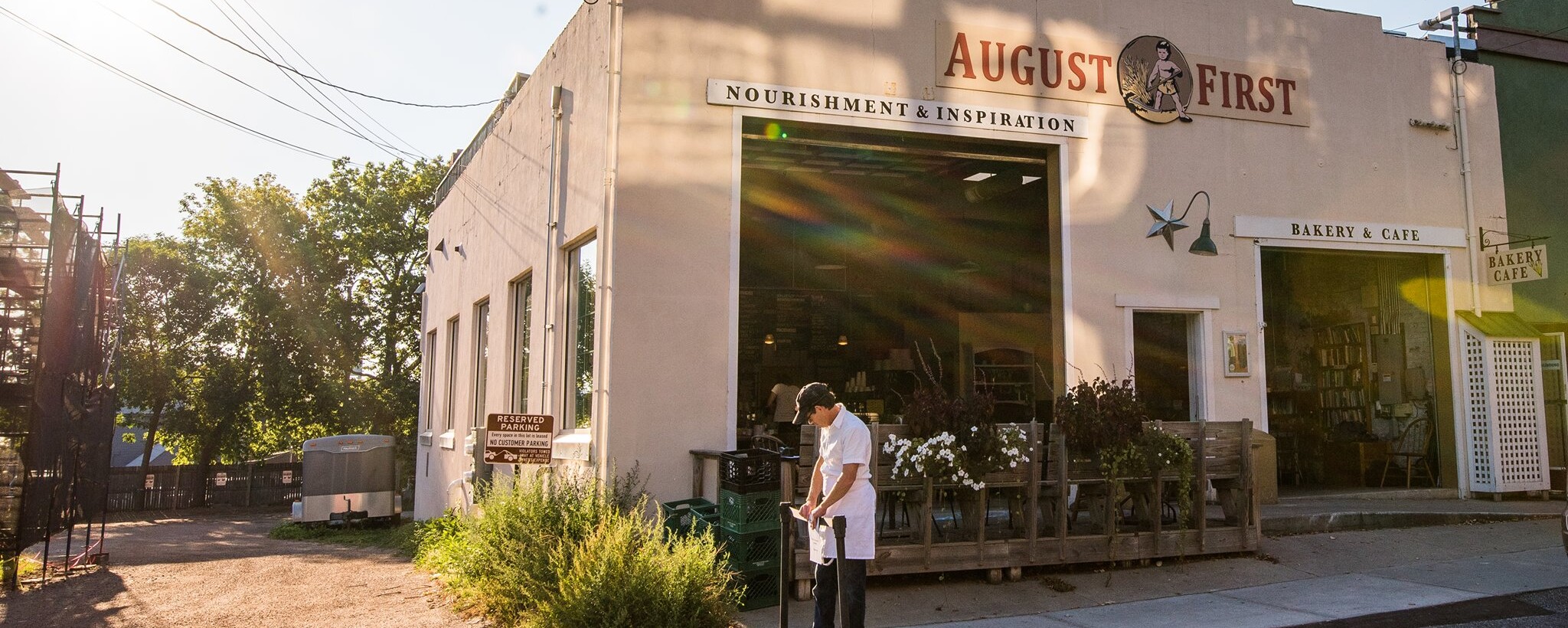 August First is owned by Phil Merrick (he/him) and Jodi Whalen (she/her), a Burlington couple with a background in the baking, microbrewing, and marketing professions. August First is a true 'mom and pop' tale, with Jodi and Phil taking a small dream of a bakery that has an at-home feel, and turning it into one of the most bustling and beloved places in Vermont.
We're completely dedicated to having fun, creating delicious food, and making you feel warm, welcomed and nurtured when you're here. We create natural, healthy food from scratch every day right here in our kitchen and bakery.Known for award-winning maple biscuits, classic pastries, locally roasted coffee, our top selling Vermonter sandwich, August First delivers something for everyone.
Our space is a big renovated garage in downtown Burlington, where it's bright and warm in the winter, and breezy and open in the summer, with plenty of outdoor seating in the warmer months. Our style is fast-casual, which means you order at the counter and then we call your name when it's ready. You can also order online for easy pick up!
August First has been laptop free since 2014! While phones and iPads are fine, we ask that you refrain from using a laptop while in our cafe. If you're looking for a place to work, we recommend Kestrel or Muddy Waters.
Locally Owned
Bakery
Brunch
Breakfast
Sandwich Shop
Takeout
Curbside Pickup
Outdoor Dining
Dine In
Vegetarian
149 South Champlain Street
Burlington, Vermont 05401
Sunday: 7:30 am-3:00 pm
Monday: 7:30 am-3:00 pm
Tuesday: 7:30 am-3:00 pm
Wednesday: 7:30 am-3:00 pm
Thursday: 7:30 am-3:00 pm
Friday: 7:30 am-3:00 pm
Saturday: 7:30 am-3:00 pm