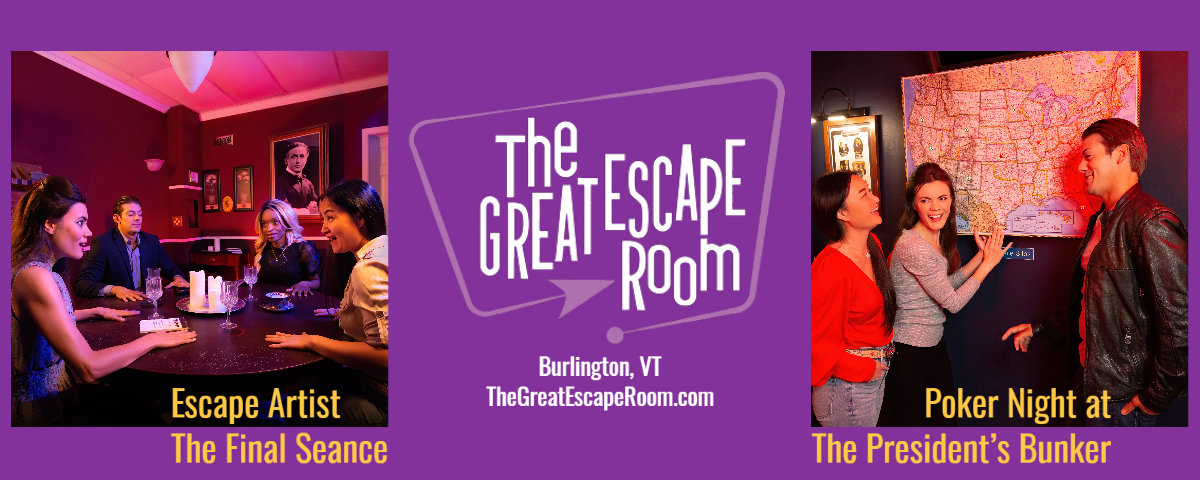 The Great Escape Room in Burlington is excited to offer two immersive rooms including Poker Night at The President's Bunker and Escape Artist: The Final Seance.
The Great Escape Room was one of the originators of the Escape Room craze that swept the country. Opened in 2015 as a family venture, they created a new genre of entertainment that set the framework for thousands of innovative and creative artists to follow. The Great Escape Room is a real-life room escape game based on popular computer and mobile phone games. After entering a room with your team, the door is closed and you have entered into a new and immersive reality. Within a timeframe of 60-120 minutes (depending on the escape room), it is up to you and your teammates to work together to uncover a series of clues and solve challenging puzzles which will lead to your great escape. The owners' dream was to create a three-dimensional experience in which participants could see, hear, and fully immerse themselves with clues and puzzles that have captivated people for many years. They also wanted to make sure teamwork was a big part of escaping their rooms. The family devised a clever series of puzzles that inspire lateral thinking, and most of all, a sense of fun and adventure.
The Great Escape Room is an ideal experience for team-building events, birthday parties, a night on the town, or just an outing with the family. And the unique structure of the rooms is compatible with larger groups so nobody is ever left without anything to do. New ideas and rooms are in constant development as there is no limit to imagination.
156 College Street
Burlington, Vermont 05401
Sunday: 12:00 pm-6:00 pm
Monday: 4:00 pm-10:00 pm
Tuesday: 4:00 pm-10:00 pm
Wednesday: 4:00 pm-10:00 pm
Thursday: 4:00 pm-10:00 pm
Friday: 12:00 pm-10:00 pm
Saturday: 12:00 pm-10:00 pm