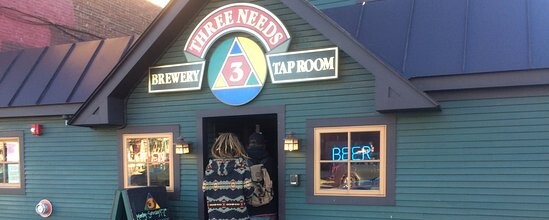 Three Needs Taproom & Brewery
In 1995, after 6 years as head-brewer at the Vermont Pub & Brewery, under the tutelage of Greg Noon, Glenn Walter set out on his own. Waiting for the approval of his brewing license, Glenn opened Burlington's 1st exclusive craft beer bar featuring the early pioneers of Vermont Brewing.
Following in the footsteps of his father and grandfather, Glenn wanted to provide a casual space where everyone felt welcome. Glenn set roots at 207 College Street, with an open space, a pool table and ultimately a 3.5 bbl brewery where he could once again employ his brewing degree from Siebel Institute in Chicago. Dogs were the rage in the early days until a complaint rolled in from another establishment. From the start, Three Needs became home to new friends, who quickly became family.
In 2012, Glenn lost his lease after 17 years on College Street and found a new home at his current location at 185 Pearl Street. Though the brewery was too small to make the trip across town worth it, the Pizza cube came into being, providing a spec-perfect, New Jersey boardwalk- style slice of pizza from Glenn's youth.
The family has grown over the years as well as the pool tables – which are meticulously maintained – and hold court to the best players in the area. With a large outdoor courtyard filled with comfortable, cushioned couches and lounge chairs, notorious house-infused liquors and craft cocktails, call-named liquors in the well, affordable selection of high-quality craft-beers, and the best pool tables in the area – Three Needs is the place for all seasons.

Locally Owned
Doors Open
Bar
Takeout
Curbside Pickup
Delivery
Vegetarian
185 Pearl Street
Burlington, Vermont 05401
Sunday: 4:00 pm-2:00 am
Monday: 4:00 pm-2:00 am
Tuesday: 4:00 pm-2:00 am
Wednesday: 4:00 pm-2:00 am
Thursday: 4:00 pm-2:00 am
Friday: 4:00 pm-2:00 am
Saturday: 4:00 pm-2:00 am